2019 AjPHA World Show Team Tournament Information
Attention all youth interested in being a part of the Texas Team Tournament Team(s). Please use the attached link to fill out what parts of the contest you would like to participate in. There are only two riders per riding class but we will try to have multiple teams if you have enough youth to fill all spots including non riding classes. If you have any questions please contact Rhonda Culp.
2019 Points through the Wildlflower Show Posted
2019 TPHC Points through the March Wildflower show have been posted on the Points page.
Paint The Future Scholarship Donations Needed

The Texas Paint Horse Club is a 501(c)3 Corporation and all donations are tax-deductible.  We will send you a tax receipt.
As a donor, you will be recognized by announcement in the arena, on a banner, and in the TPHC Newsletter/Social Media.  You are invited to help us award your scholarship in the arena.  Donations of $1,000 or more will receive special recognition.
You may pledge your donation to Fred Tabor at 940-440-1038 and fund it any time before MARCH 1, 2019.  Please mail to:
Texas Paint Horse Club
1009 Briarcreek Drive
Arlington, TX  76012
2019 Paint The Future Scholarship Donation Form
Thank you for helping the Youth of the Texas Paint Horse Club.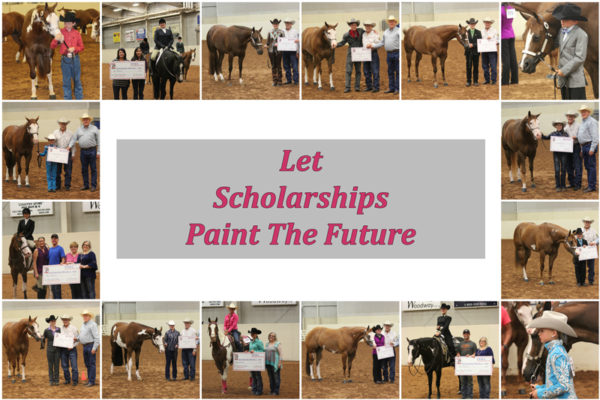 2018 Awards Banquet
Saturday, February 2, 2019 at 7pm 
Texas Paint Horse Club would like to invite you to our 2018 Awards Banquet.  We will be holding the Banquet again this year in the Cactus Room which is located in the Southeast corner of the Amon Carter Exhibit Building.  There will be a cash bar offering Wine, Beer, Soft Drinks, and Bottled Water beginning at 7:00.  Dinner will begin at 7:30.  This year we will be having BBQ Brisket and BBQ Turkey with Potato Salad, Cole Slaw, Pinto Beans, and Peach Cobbler for dessert.  Hope to see you there.
We will be having a hawaiian shirt contest with prizes awarded, so please come decked out in your Hawaiian outfits. Please give us your shirt size, we will be giving everyone a TPHC tshirt.  Cotton blend, unisex sizes: S, M, L, XL
Please fill out the attached form and mail so that we will receive the form no later than Wed, Jan 15, 2019. 
2018 Awards Banquet Reservation Form
Please make checks payable to:  Texas Paint Horse Club
Please Mail to:  Eileen Daugirda
1009 Briarcreek Drive
Arlington, TX  76012
Any questions, please call Eileen @ 817-296-9144 or email, Edsonbon@aol.com
FWSSR Late Entry Deadline Approaching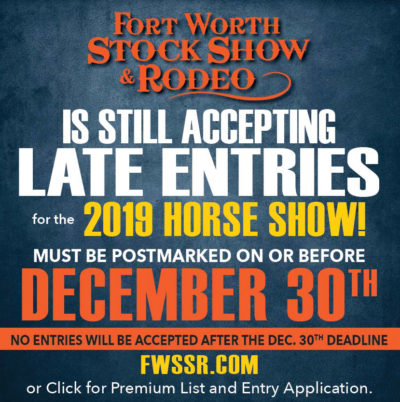 Important Notice for Youth Requesting their Scholarship Funds for the Summer Semester:
If you have won a TPHC Scholarship and plan on attending the summer semester, the below is the information we will need to process payment which will be sent to your school of choice.
This should be done at least a month before your college semester starts to give us time to get it processed and the check sent to the institution. You can send in an email request to Eileen Daugirda at Edsonbon@aol.com or snail mail to 1009 Briarcreek Dr., Arlington, TX 76012.
You must include the following:
Your name
Proof that you are enrolled in an accredited institution
Student ID number
Address to the Bursar's office or the Financial Aid Office at your institution
Day classes start
If you have any questions, please feel free to contact Eileen Daugirda via email or direct phone 817 296-9144.
TPHC Launches New Sponsorship Program for 2018
TPHC is excited to announce our new 2018 Sponsorship Program, offering you the chance to showcase your business, farm, stallions or even just yourself! We've included levels for every budget (our Digital Sponsorship starts at only $50!) and all funds will be put right back into our shows so we can give more back to our members and show participants, put on more socials and fun events at the shows and allow us to expand on our show and year end awards programs.
Don't miss out on your chance to get huge visibility through our shows and print, digital and social media channels (our facebook page alone has almost 1,900 followers)! We've included 2017's very popular individual class sponsorship option as well in the new Program (if choosing this level, please include the class you would like to sponsor on the form below).
APHA Website
Please click here to visit the APHA homepage