2020 Fort Worth Stock Show Entries Due Soon!
Reminder: Entries for the 2020 Fort Worth Stock Show are due November 15. Late entries are due December 30. For the premium book, entry forms, or more information, visit fwssr.com.
Paint The Future Scholarship Donations Needed

The Texas Paint Horse Club is a 501(c)3 Corporation and all donations are tax-deductible.  We will send you a tax receipt.
As a donor, you will be recognized by announcement in the arena, on a banner, and in the TPHC Newsletter/Social Media.  You are invited to help us award your scholarship in the arena.  Donations of $1,000 or more will receive special recognition.
You may pledge your donation to Fred Tabor at 940-440-1038 and fund it any time before MARCH 1, 2019.  Please mail to:
Texas Paint Horse Club
1009 Briarcreek Drive
Arlington, TX  76012
2019 Paint The Future Scholarship Donation Form
Thank you for helping the Youth of the Texas Paint Horse Club.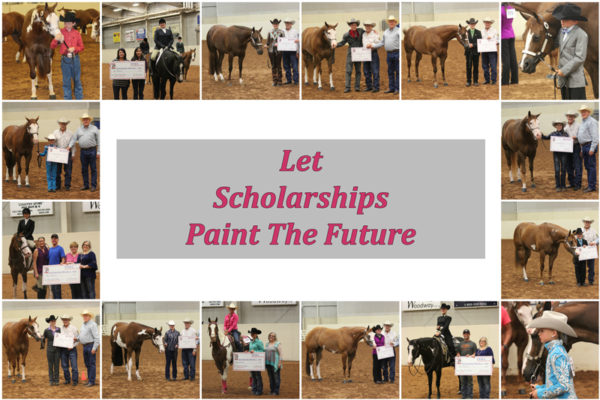 Important Notice for Youth Requesting their Scholarship Funds for the Summer Semester:
If you have won a TPHC Scholarship and plan on attending the summer semester, the below is the information we will need to process payment which will be sent to your school of choice.
This should be done at least a month before your college semester starts to give us time to get it processed and the check sent to the institution. You can send in an email request to Eileen Daugirda at Edsonbon@aol.com or snail mail to 1009 Briarcreek Dr., Arlington, TX 76012.
You must include the following:
Your name
Proof that you are enrolled in an accredited institution
Student ID number
Address to the Bursar's office or the Financial Aid Office at your institution
Day classes start
If you have any questions, please feel free to contact Eileen Daugirda via email or direct phone 817 296-9144.
TPHC Launches New Sponsorship Program for 2018
TPHC is excited to announce our new 2018 Sponsorship Program, offering you the chance to showcase your business, farm, stallions or even just yourself! We've included levels for every budget (our Digital Sponsorship starts at only $50!) and all funds will be put right back into our shows so we can give more back to our members and show participants, put on more socials and fun events at the shows and allow us to expand on our show and year end awards programs.
Don't miss out on your chance to get huge visibility through our shows and print, digital and social media channels (our facebook page alone has almost 1,900 followers)! We've included 2017's very popular individual class sponsorship option as well in the new Program (if choosing this level, please include the class you would like to sponsor on the form below).
APHA Website
Please click here to visit the APHA homepage